Day of Event FAQ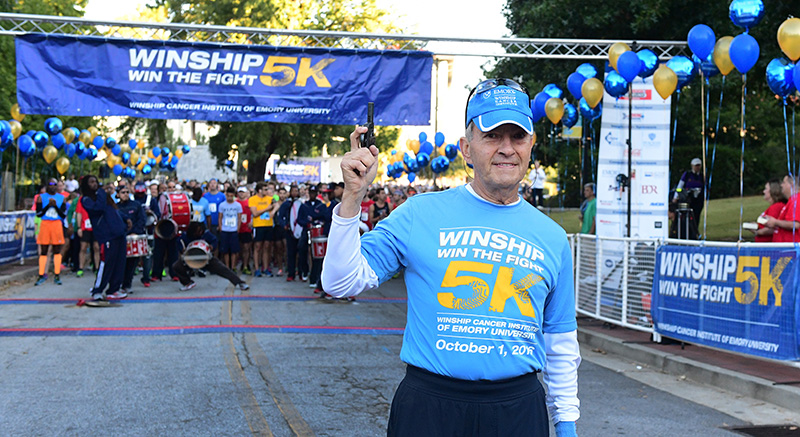 What happens if it's raining on the day of the race?
The Winship 5K will be held rain or shine. In the event of extreme weather where it is recommended that we cancel, delay or modify the course, we may do so for the safety of the runners, walkers and the race volunteers. Please note that the race registration fee is non-refundable even if the race is modified or cancelled. For any further questions, please contact pam.mcadams@emory.edu.

*Please be sure to check winship5K.emory.edu for the most up-to-date information and our social media pages on Facebook and Twitter @Winship5K.
Can I bring my child in a stroller or carry him/her on my back?
Baby strollers and baby carriers will be allowed on the 5K run/walk courses.
Can I bring my pet?
The only pets allowed are seeing-eye dogs, and they must be on leashes.
Will there be food available to runners and walkers following the run/walk events?
Yes. Thanks to the generous donations of many of our supporters, we will have water, fruit and snacks available.
What isn't allowed on the run/walk course?
For safety purposes, inline skates, skateboards, bicycles and pets will not be allowed on the run/walk course. Baby strollers are OK.
What happens if I register but am unable to participate?
If you're unable to participate, your support will still be appreciated! Please note that registration fees and donations are non-refundable and non-transferable.
Will there be same-day registration for the event on October 14, 2017
We cannot guarantee this will be an option. We strongly encourage participants to sign up online for the Winship 5K in advance of the event.
When do I pick up my T-shirt?
T-shirts will be available at packet pickup and on race day to all registered participants who paid a registration fee. You must have a race bib number with you to pick up a T-shirt.
Do I still get a T-shirt if I preregistered as a Winship Run Warrior or Winship Jog/Walk Warrior but cannot attend the 5K?
All registered Winship 5K participants who paid a registration fee are eligible to receive a race T-shirt. If you have paid the registration fee and learn that you cannot attend the event, please let us know in advance at winship5K@emory.edu and we will send instructions for T-shirt pick up.
Do volunteers receive a T-shirt on October 14, 2017?
Yes, all volunteers present for the race day on October 14, 2017, will receive a volunteer shirt. You will receive your T-shirt during check-in for your volunteer shift.
Can I pick up the shirts/race numbers for my entire team or family at packet pick up?
Yes, but only if you request it in advance and your entire team has authorized you to do so. Please email Pam McAdams at pam.mcadams@emory.edu by September 22 if you are going to pick up for your team.